SunVee stands for Solar Utility Neighborhood Vehicle. This is a concept for a solar neighborhood electric vehicle.
Solar: Solar-electric panels are integrated with the body to charge batteries which power an electric motor.
Utility: This is a practical vehicle for trips with passengers and cargo as well.
Neighborhood: The range is about 30 miles and the top speed is about 25 miles/hour, making this vehicle useful for within your neighborhood.
Vehicle: This is a vehicle for transforming our consciousness about how we use energy.
ZENNergy (Zero Emission No Noise) Front wheel drive; Helical gear transmission for quiet operation; 100% electrically driven, 72 VDC (5.69kw); Electronic drive-by-wire throttle; Advanced Motors & Drives, 3 Phase AC drive motor (Length: 10.5", Diameter: 7.5"); Curtis Motor Controller; Transmission 10.3 - 1 Speed reducer with integral differential; Speed control - 300A; Zero emission vehicle; Constant velocity driveshaft with CV joints; Batteries: EV31A-A Discover battery pack - 6 x 12V x AGM maintenance free, valve sealed lead-acid batteries; Charging: Aprox. 8 hours (110 Volt Standard Electrical Outlet), 80% rechargeable in 4 hours (from empty); Independent front wheel suspension with two coilspring/shock units; Rear suspension trailing arm with two coil spring/shock units; Rack and pinion steering; 13" spoke aluminum magwheels; 145/70R13 tires. Base price: $1600.
Myers Motors NmG (No more Gas) is not a low speed vehicle; the top speed is 70 mph! It is a single occupant, three-wheeled electric car that runs on 156 volts DC (lithium battery pack); has an onboard battery charger; fully integrated electronics system; 1350 lbs curb weight; 72-inch wheel base; 57 inches vehicle height; 30-60 mile range; price is about $30,000. More information is available at www.myersmotors.com.
The Tango is a fairly high-performance EV, that weighs in at over 3,000 lbs, despite its compact body...partly because it carries from 19 to 20 batteries. It features two motors, one on each rear wheel. The range is listed at between 40 and 160 miles, depending on the choice of battery pack. The top speed is 150 mph! They are taking orders now for production models, which will cost between $18,000 and $108,000 US. More information can be found at www.commutercars.com.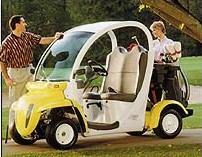 Global Electric Motor's GEM car is a true NEV, with a top speed of 25 mph. Curb weight is 1100 lb. with batteries; length: 96.5 inches; height: 69.5 inches; width: 55 inches; 72-volt shunt GE motor; front wheel drive direct-coupled Dana Spicer differential; GE solid state controller; 10" two-ply street and turf rated tires; six Trojan 12-volt deep-cycle batteries; on-board charger; four wheel automotive-style hydraulic brakes; independent front wheel suspension with two coil spring/shock units; rear suspension is trailing arm with two coil spring/shock units; automotive rack and pinion steering; aluminum welded space frame; structural composite and thermo-plastic body; seats two occupants; automotive-design 3-point safety belts; quartz halogen headlights, front and rear turn signals, high mount rear brake and taillights; automotive safety glass windshield with wiper; rearview & dual exterior mirrors. A four-seat model is available. Price is about $7,000 to $9,000. More information is available at gemcar.com.
Ford Motor Company's Th!nk comes in both two and four passenger models. Range is up to 30 miles; has a 72-volt battery, 5,000-watt DC motor; charging time is 4 to 8 hours; front and rear hydraulic with coil-over spring shocks; regenerative braking; hydraulic four-wheel drum brakes; drive mode-25 MPH turf mode-15 MPH; gear ratio is set at a constant 10.35:1; automotive-style headlights and tail lights; turn signal lamps; hazard lights; reverse lights; rearview and sideview mirrors; automotive-type glazed windshield; windshield washer/wiper; state-of-charge and low-battery indicator; digital speed display; rear license plate illuminator; odometer with trip meter; on-board charger.
Two-passenger model: length: 104 in; width: 58.1 in; height: 69 in; wheel base: 68 in; weight: 1350 lbs; payload: 600 lbs.
Four-passenger model: length: 114 in; width: 58.1 in; height: 69 in; wheel base: 78 in; weight: 1,400 lbs; payload: 1,000 lbs. Price range is about $8,000 to $10.000. Apparently, Ford Motors has abandoned this!
Nevco's Gizmo is an LSV, with a top speed of 40 mph. Vehicle weight with batteries is from 660 lbs. to 860 lbs., with a payload of 250-500 lbs.; storage capacity 10 cubic feet; dimensions 4' wide x 4.5' high x 8' long; motor 12 peak HP series DC; deepcycle lead acid batteries; 48V system; chassis steel tube truss; body fiberglass; transmission chain drive, single speed; brakes hydraulic disc, hand actuated; range 45 miles standard per charge; recharge power source standard 110V AC outlet. Base configuration with 45 mile battery pack is $8,650 plus shipping. More information available at nevco.com.
Nissan's Hypermini is a concept car, yet to be introduced. It would be a two passenger EV (electric vehicle) that can go 60 miles per hour and travel about 75 miles on a single charge. Dimensions (L x W x H) 2,500 x 1,475 x 1,550 mm; wheelbase 1,790 mm; track (front / rear) 1,255 / 1,260; neodynium magnet synchronous motor, with maximum output 20 kW at 15,000 rpm; lithium-ion batteries; inductive charging system; rear-wheel 2WD; suspension (front) independent struts; suspension (rear) independent parallel-link struts; brakes (front / rear) ventilated discs with anti-lock system; tire size 185 x 55R x 14.
Made in India, the Reva is an EV that can travel at about 35 mph. The power pack consists of eight 6 Volt EV type lead acid batteries. The dent proof body panels are made of high impact ABS (Acrylonitrile Butadiene Styrene)". It features side impact beams, a specially developed steel frame and electronic regenerative braking. The suspension consists of McPherson strut in front and coil spring at the rear; two door hatchback; payload is two adults + two children (227 kg); city driving range is 80 km; charge time is
80 % charge in 3 hours; 100% in 6 hours; high torque, separately excited DC motor, 13kW peak; microprocessor-based battery management system with an intelligent fuel gauge; 48 volt, 200 amp-hr EV tubular lead acid batteries; Dimensions: length
2638 mm, width 1324 mm, height 1510 mm, wheel base 1710 mm; curb weight 754 kg.
The Tesla Electric sports car combines basic lithium ion battery technology with their own unique battery pack design that is light, durable, recyclable, and it is capable of delivering enough power to accelerate the Tesla Roadster from 0 to 60 mph in under 4 seconds. And the battery stores enough energy for the vehicle to travel about 220 miles without recharging, with a 135 mpg equivaence. It has a two-speed transmission. For more information see www.teslamotors.com
There are no products or services related to solar vehicles for sale from this site...