SunVee stands for Solar Utility Neighborhood Vehicle. This is a concept for a solar neighborhood electric vehicle.
Solar: Solar-electric panels are integrated with the body to charge batteries which power an electric motor.
Utility: This is a practical vehicle for trips with passengers and cargo as well.
Neighborhood: The range is about 30 miles and the top speed is about 25 miles/hour, making this vehicle useful for within your neighborhood.
Vehicle: This is a vehicle for transforming our consciousness about how we use energy.
Other Solar Electric Vehicles
The Australian developed AEV from Applied Electric Vehicle Robotics is a purpose-built vehicle, and system, designed to meet the needs of the ever increasingly complex and expanding inner urban transport and delivery environment. For urban environments. AEV robotics both argue for, and apply, a 40km/hr maximum speed for their vehicles in an effort to make the urban environment safer. The vehicle is also lightweight at less than 1000kg, and engineered for low operating costs. The vehicle is designed as a multi-adaptable platform rather than using the conventional monocoque construction.

Described as a 'modular vehicle system', the electrics, motors, batteries and 'brains' of the vehicle are all contained in a flat platform base with mounting points for swappable 'pod' bodies. It is one of the early breed of 'connected' vehicle, aware of its surroundings through both inbuilt sensors and communications with surrounding vehicles and systems. Included in its passenger pod configuration are high efficiency solar panels to assist with charging throughout the day as well as using standard vehicle AC couplers for faster and/or overnight charging.
The PEBL is a four season velomobile bridging the gap between a bike and a car. With a 750 watt motor and the option to pedal, they have combined the ease of a car, with the exercising ability of a bike. The PEBL is at heart a suburbanite but is comfortable with almost any short commute. The PEBL is hand built in Massachusetts.  Stock on all models include; a fully enclosed body with a cloth interior, rear suspension, zippered doors, reverse, cruise control, adjustable seat, handlebars and pedals, full street lighting, trunk with lots of storage space, a passenger bench seat and a wood dashboard with USB charging port. Other options include a heater, interior lighting package, solar charging roof, and more! The PEBL can fit multiple bags of groceries in the rear as well as a passenger on the rear bench seat.  In addition to storing things inside, the PEBL has plenty of room for racks and mounts on the body..
This Solar Electric VW Van was built by Brett Belan and is featured at www.solarelectricvwbus.com. The roof consists of four 305 watt LG panels, totalling 1220 watts. Dc to Dc boost converters boost each panel voltage from 40 Voc to 55 Voc.  These converters are then wired in series for around 220 Voc.  The array can theoretically put out 8 amps total at 150 volts into the battery.  Twelve Trojan T-1275 lead-acid batteries provide 150 Ah at a 20-hour rate. Series connections bring it up to a 144 volt nominal voltage. There is an AC motor and 500 A, 144 V controller from Hi Performance Electric Vehicle Systems. The AC51 motor has more power than is needed. The Curtis controller has a great regenerative function. Two 5 inch fans keep the controller plently cool even in 100 degree weather. It has a 50 - 80 mile range, depending on how it is driven and the terrain. Parked it gets about 25 amp hours in a day...15-20 miles of city driving. If it is carefully oriented during the day it will get approximately 50 amp hours.
Here is an electric/pedal car from www.organictransit.com called The Elf that features:
100W solar panel
EZ Ergonomic Sliding Seat
Front Dynamic Dampening Suspension
Reinforced CON-Pearl™ Bulkhead & Decklid
Aluminum 6061 T Alloy frame
Continental Town & Country tires on the front
Kenda Kiniption rear tire
3-speed internally geared hub
AVID BB7 disc brakes on the front wheels
LED headlights, tail lights, brake lights, and turn signals
Race Face sealed bearing Crank set
48V 11 Ah Lithium-ion battery with charger
Enclosed cargo compartment with a locking lid
And another version, also from www.organictransit.com called The Truckit, features:
Up to 30 mile range on a single charge
Built in solar panels
LED headlights, tail lights, and signals
Side mirrors
Front and rear brakes
Customizable body panels for advertising
up to 800 lb payload
Both of these vehicles can be pedaled as well as be driven by electric motors. According to federal guidelines, the top allowable speed is 20 mph on a flat surface using electric only. The motors on these vehicles will be restricted to that speed in order to keep them legally classified as a bicycle under federal law.
The Dutch Solar Team Eindhoven created this solar-powered family car. 'Stella' has room for four people, a trunk, intuitive steering and a range of 600 kilometers. This car was entered by the student team in the Cruiser class of the World Solar Challenge in Australia, October 2013. The solar cells of 'Stella' - Latin for star – generate more electricity on average than the car uses and that means the surplus electricity can be returned to the power grid, thereby making the car 'energy-positive'. Intuitive driving is enabled by a steering wheel that expands or contracts when you are driving too fast or too slowly. For more information go to www.solarteameindhoven.nl.
Cruise Car of Sarasota, Florida is now selling, through a variety of dealerships across the U.S., several models of solar electric vehicles. These are all low-speed, street-legal vehicles, suitable for neighborhood or golf course use. Visit www.cruisecarinc.com for more information.
The Classic Cruise Car comes in two, four and six seat versions. Listed range for the four-seat model is 48 miles; maximum speed is 20 mph; the body is composed of steel, plastic and fiberglass; it has headlights, turn signals, tail lights, brake lights, a horn, and rear view mirrors; it can be towed; uses 6 or 8 standard lead/acid golf cart batteries; has a 5.5 hp motor; has 4-wheel hydraulic brakes plus a hand brake; has a spring suspension system;a direct drive motor/rear axle arrangement, and both on-board grid charger and solar panels.
The SunRay is primarily designed as a solar golf car, and comes in two and four-seat models. The two-seat model has a 5.5 hp, 48V motor; uses 6 standard lead/acid golf cart batteries; features a 180W solar panel; has a 55+ miles range; maximum speed of 22 mph; will carry 755 lbs.; has self-adjusting drum brakes; has leaf springs and shock absorbers; has either 8" or 10" tires; and includes a 48V automatic charger. The basic model retails for around $3,500.
The Kudo Cruise Car comes in 2, 4, 6, 8, 11 and 14 seat models. The six-seat model features a 7 hp motor; a range of about 50 miles; a maximum speed of 25 mph; carries 8 standard lead/acid golf cart batteries; will carry 880W solar panel; tempered glass windshield; three rear view mirrors; headlights, turnsignals, and brake lights; front and rear drum pneunamic brakes; a speed change gear box; steel plate suspension; 10" wheels; and a 48V automatic charger. The 14-seat model retails for around $15,000.
They also sell independent Solar Roof Kit conversions to turn any golf cart into a solar vehicle.
The Kinetic Photovoltaic Vehicle was designed by Terry Hope in 2008. He wanted an electric vehicle that would fit in a suitcase. After about a thousand hours of electric vehicle research & development his personal electric scooter / bike concept materialized.
Specs include:
396 Wh Battery (main 24v)
13 km Range (min)
15 min charge 80% (AC)
28 Wh Battery (booster 12v)
10,000 Charges (life-time)
10.8V Capacitor (booster)
50 lbs w/Solar Array
50 Watts solar power
12V Kinetic gen device
The integrated electric vehicle solar array consists of 14
6"x6" mono crystalline solar cells wired in a series and function as fairings or aerodynamic wind cutters which improve the vehicle's drag coefficient value. 44 lbs w/o solar
Micro-hybrid | No pedals | A123 battery | DC Electric Motor | Zero Emissions | Light & Compact | Power from Kinetic Energy | Steel Frame | Polycarbonate | Titanium Hardware | Voltage & Current Monitoring | Rear Shock Suspension
This Solar Tour Bike was desiged and built as a solar-electric recumbent touring bike which will allow two riders to ride in long-distance tours powered only by the sun and muscles. It's not intended to be the car of the future, rather an experiment to see how a solar powered touring bike can be made using easy-to-obtain parts. What it's designed to do is similar to the function of million-dollar solar race cars: go far under only solar power. But it's made by two guys in a garage, not an army of engineering students spending millions of dollars, which is the case for race cars. They used an old 2002 Greenspeed recumbent tandem trike, off-the-shelf solar panels, commercial motors and controllers, store-bought batteries and other components and assembled them in a garage. The only large custom component is the solar panel trailer, which was designed and welded together locally. It's been a design-and-test, trial-and-error process, a real engineering development exercise.
The solar tourer would have to carry two riders and camping gear and tools and spare parts. It would need to be powerful enough to travel perhaps 1,500 miles over a two-week trip. And the trip might include multiple western mountain ranges, maybe even crossing the Continental Divide. They designed the solar touring bike to fit the usual legal status of an electric-assist bicycle. Most state vehicle codes will allow such electric-assist bikes to travel up to 20 mph and use no more than 750 watts of power. They have been scrupulous to adhere to these guidelines, as well as incorporating the lighting, bells, horns and visibility flag to comply with local ordinances. As an electric-assist bike this solar tourer can travel anywhere bicycles are permitted, and does not require an operator's license.
The SOHH Project (Solar Human Hybrid Vehicle) goal was to create a pedal powered vehicle with electric motor assist that carries 4 people, a dog, and cargo. This project was launched as an 8th grade project for the Novato Charter School. The father/son team learned about, experimenting with and implementing alternative energy technologies, challenging traditional transportation ideas, and demonstrating green transportation options in their community; and had a lot of fun. Their design goals: A vehicle with excellent peddling performance; An efficient electric motor assist; A street legal vehicle; New generation battery technology; and Solar charging. Oh, and it's got to look cool.
Electric Motor: Scott 1+hp 24 Volt high efficiency permanent magnet motor (USA); Transmission: Leeson/hydromec 10:1 worm gear (Italy); Motor Brain: Kelley 200 amp controller with power regeneration ability (USA); Throttle: Magura 0-5k (Germany); Energy Storage: GreenSaver Silicone Gel Cell Batteries, 2 x 20 amp Hours (China); Solar Panels: Cynergy 2 x 20 watt (China); Solar panel controller: Phocos CXN-10 10-amp 24-volt with PC output capibility (Germany); AC Charger: Universal Products 5 amp; DC-DC Converter: Samlex 24 to 12 volt 5 amp PWM converter (Holland). To run Headlights and ipod; electrical monitor: Xantrex Linklite (USA); Headlights: TrailTech 13 watts HID headlights & LED taillights (USA)
The SOHH qualifies as a motorized bicycle and is legal on the road. Federal and California State law limit electric bicycles to a 750 watt (1 horsepower) motor and to going no faster than 20 mph under power. The SOHH is equipped with a 1 hp motor and is geared to not exceed 18 mph at full throttle. Besides, with a bike this size, low end torque for hill climbing was much more important than speed. The SOHH also fits into a standard width bike lane and is legal on non-motorized vehicle paths (when pedaling). -Although it is best to stay on paths wide enough to not crowd others.
A team of San Jose State University Davidson College of Engineering students and faculty have designed a vehicle powered by human, battery, and solar energy. The Zero EMissions vehicle, or ZEM as it has come to be known, is powered by human pedaling and an electric motor. The motor is driven by batteries that can be charged by 110-volt sources and by solar energy harnessed from the collection panels that are integrated into the exterior surface of the vehicle. It can be driven at low speeds by human pedaling in inner city streets with congested traffic. The electric motor can power the vehicle to run at higher speeds, up to 35 mph. Solar energy provides a continuous charge of the batteries during the operation of the vehicle and also when it is idle. The vehicle has a cruising range of 40 miles. With the solar energy supplement, its range is 50 miles. The design and construction of the ZEM vehicle evolved from a senior design course in the Davidson College of Engineering. It combines the latest technologies in electric vehicle design, solar power conversions, and ergonomic human-powered vehicles into one affordable and environmentally sustainable vehicle for urban transportation. The ZEM vehicle is suitable for urban commuting, small business deliveries and shuttle services.
The folks at www.sunnev.com are offering kits for sale to build your own solar electric vehicle.
The vehicle will seats two people, has a 25 mph top speed with a range of 20 miles. It is water proof, has a 2-speed transmission, lights, horn, brakes, and weighs 350 pounds. It is street legal. The small panel on the hood gives you about 3 miles per day travel on a sunny day. Larger panels on the roof could bring that up to 12 to 16 miles per day.
The kits include: Chassis (welded square tubing); front suspension with two shocks; rack and pinion steering with steering wheel; rear suspension with two shocks; four wheels (26" diameter Kevlar belt tires); drive system (48V DC motor and control with regenitive braking and reverse); inner frame, welded; door assembly with latch and handle; body parts (floor, pans and outside panels made of fiberglass reinforced plastic); floor, seats and dash board; hydraulic disc brakes on all four wheels; speed control with pedal, PWM control, relays and all cables; headlights, taillights, turn signals, switches and wiring harnesses; solar charge controller with ammeter; Built in 110 Volt charger; safety glass windshield and polycarbonate side and rear windows; windshield wiper, seat belts, rearview mirrors, horn and parking brake; detailed assembly manual; wiring diagrams; Certificates of Origin for all major components. The solar panel(s) and batteries are not included. The cost of the kit is $6,500.
Stinger Motors Inc. With only the driver on board, the 400hp, 2300lb, Stinger can easily accelerate from 0-60mph in well under 5 seconds in 4WD Traction Mode, yet by shifting into Sport rear 2WD (250hp) and then Economy Mode rear 1WD (125hp) once your desired speed has been reached - you simply set the Cruise Control at 70mph and the same aerodynamically designed Stinger can maintain that highway speed with as little as 8hp on a flat gradient. Standard Features include: Regenerative front or rear braking/charging system; Gull- wing doors; Cruise control; Removable Solar Shell; All polymer/plastic outer body construction; ABS plastic wheels; Home based "Four Corner" charging system; Three phase 220V industrial charging lead; All LED instruments and lights; High velocity remote climate control; Auxiliary on-board wind turbine charging system; Front Airbags; Aluminum passenger safety cage; 30 traditionally sized batteries on-board; 10 cubic feet trunk space; excellent weight distribution and low roll center for cornering stability $30,000 USD projected sale price. (The Stinger name and design is the exclusive intellectual property of Dr. Al Alberts, and he is seeking both investors and a capital development partner and can be contacted at: al_albertsAThotmail.com )
The Ecotrike features: Front 20-inch fork with shocks, disk brake, and pivot bearings; Three performance bike or motorcycle high pressure rims and tires, 100 psi max rating; Turn signal lights - right and left; Head light - 50 watt 12V; Front removable aerodynamic panel; Removable door and window - right and left; Front windshield; Pedal crank assembly; Brake cables and levers for front and rear; Mini 5 mm V-belt pulley and V-belt assembly; Generator support brackets; Speed control handle assembly and cable; Horn 12V; Instrument console assembly; Front top cross member "L" shaped attached to solar panel; Rear view mirrors and bracket; Cloth padded chair; Battery hold down assembly and cover; Rear wheel forks with shocks; 20-inch custom wheel forks with wheels and drum brake.
Electric System Motor Drive Components: Solar panels (2 Kyocera 80 watt); Two motor 24 vdc PM 1.6 hp continuous - Permanent Magnet motors; Pedal driven generator - hub motor (24 V dc 6 amps custom); Two motor overload breakers; PWM Controller 300 amp - 24V; Battery charge indicator - digital panel meter modified; Fuse holder blocks (2) for 24V and 12V circuits; Gel cell batteries (2 Gel Star 70 Ahr 12V standard); NiMH batteries 105 Ahr 24V optional); Charge controllers for gel batteries - 1 0 amp; Horn and turn switch assembly button switch and three position toggle; Brake lights and rear turn lights (12V four fixtures); Panel meters volts and ammeter; High current 24V solenoid breaker (250 amp 24V); Brake switch assembly; Seat belt kit - retractable shoulder belt.
This dersign has been patented and, as of July, 2007, the inventor (Andy Schoenberg) has turned over the marketing of the patent to the MILLENNIUM MARKETING GROUP LTD.
The Venturi Eclectic is the latest entry into the marketplace of a somewhat practical solar electric vehicle. It is expected that it will be available as a limited version of 200 vehicles in June, 2007 at a price of around $32,000 US. They hope that by 2009 volume sales will bring the price down to about $20,000 US. They also anticipate marketing a single-seat "ultilitarian" version.

Here are some of the specs for this vehicle: Three seats; 16 kW Asynchronous motor; 1:10 speed reduction; hydride metal nickel 72V battery (liquied cooled) provides 100 Amphours and has an estimated 10 year life; regenerative braking; can be recharged in 5 hours from 16A grid power; 2.5 sqm of photovoltaic cells (yield 14%) provide 330W, with an estimated solar range of 7 km/day; aluminum/composite chassis with steel engine cradle; McPherson suspension; 4 disc brakes; 2.86 m length, 1.85m width, 1.75m height, 350 kg weight without passengers; 50 km range; 50 km/hr. top speed; optional wind turbine to enhance renewable energy generation. See www.venturi.fr for more information.
The Venturi Astrolab is what they consider their high-performance solar-electric commuter car. They expect these to become available in January, 2008 at a price of about $122,000!
Here are some of the specs: two seats in tandem for better balance on the road; 16 kW Asynchronous motor; 1:7 speed reduction; hydride metal nickel 72V battery (liquied cooled) provides 100 Amphours and has an estimated 10 year life; can be recharged in 5 hours from 16A grid power; central carbon body with front and rear units in aluminium; 3.6 sqm of photovoltaic cells (yield 21%) 600W average solar contribution: 18 km/day; McPherson suspension; 4 disc brakes; 3.8 m length, 1.84m width, 1.2m height, 280 kg weight without passengers;110 km range; 120 km/hr. top speed. See www.venturi.fr for more information.
Eco-Friendly Two Wheeler – Powered by Solar and Wind designed and built by Rafi Alam.
A solar Panel is installed on the front of the vehicle. A fan is fitted on the front wheel cap to to utilize wind power. There is a battery which gets charged by the above two methods. Once the battery is fully charged, it provides a millage of 80 to 100 km at a speed of 50-60 km/hr. This scooter is charged at a price of US $ 934 or around Indian Rs.40000/- The scooter is operated by a button start. The charged battery drives the motor which drives the scooter. The scooter has a small petrol tank which can be used in case of emergencies. The battery also gets charged simultaneously when the vehicle is running. Rafi has finished his formal education only up to class 9th and is working as a mechanic at a car workshop in Delhi. He wants to replicate this technology on four-wheelers also.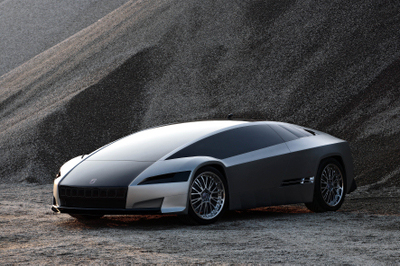 The Quaranta is a concept hybrid gas/electric vehicle with solar assist for the electric portion made by Italdesign Giugiaro . The wide black roof is a solar panel that charges the batteries and provides energy for the climate control system. Giugiaro says the all-wheel-drive, mid-engined car accelerates from zero to 62 mph (100 kph) in 4.05 seconds and tops out at 155 mph. This is a three-seater sports car that will cost lots of money, if it ever gets to market!
.
| | | |
| --- | --- | --- |
| | | |
| | Queen's University's eighth solar vehicle, the "Mirage". | |
For many years schools, universities and corporations have been making truly solar-electric vehicles to enter into the many competitions that happen around the world. The rationale for all of the money and effort that goes into these creations is often that the technology will trickle down to products for consumers. The race cars are fast and efficient, but usually carry only one person, have very limited cargo space and are rather ungainly to drive.
There are no products or services related to solar vehicles for sale from this site...